I am not really a fan of documenting everything I eat throughout the course of a day, but I do like using What I Ate Wednesday to show you some of the things I make and eat throughout the week. I am conscious of what I eat on a daily basis, but I don't take note of each bite, so this is the best way for me to show you all some of my creations! We tried a bunch of new things throughout the past week.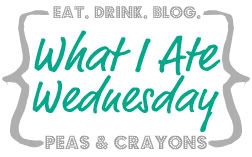 First up, one of Trav's favorites that I've created so far:
Turkey burger (just ground turkey with some spices) and carrot fries topped with a bit of cheese. Travis thinks that he likes carrot fries almost as much as regular fries. I'll take that as a win. All I did was slice carrots, lightly coat in olive oil with some salt and pepper, and bake on 450 for 10-12 minutes until tender. As someone who doesn't really enjoy carrots, I actually liked these. Which is better than just tolerating my veggies! I'd never made either of these things before, definitely going to be added to our meal plans in the future!
Another first: finally using my Stonehouse 27 sauce that I won last year in a giveaway.
We had no idea what to expect with this, but we went on a limb and made a little bit of Indian at home. We smothered some chicken and peppers with the sauce, and I also made some brown rice.
Like the action shot thanks to Travis? haha
It definitely exceeded my expectations! That actually is Travis' plate; I had next to no rice and a nice side salad. But the flavor from the chicken and sauce was really tasty!
Moving on. I used yesterday to clean out the fridge the best I could. I started by making eggs muffins for the week with spinach.
Next, I made a giant salad with some leftover pork for lunch. With a Diet Dr. Pepper, which I am in love with. I used a lot of veggies that were nearing the end of their life. And cheese. Duh.
Dinner was a his/hers kind of thing. Which is also a first. I've never really planned a meal two different ways. We had spaghetti and turkey meatballs, but I had spaghetti squash and Travis had a hodge podge of different noodles.
Looks may be deceiving… my plate is actually smaller than his, but it looks like I ate about 3 spaghetti squashes total based on that picture haha.
The last thing I did was dip my strawberries into the end of a Chobani container and froze them. Plan on eating them for dessert this week! I knew my strawberries were looking a little rough, so I finished those off, too! Hope they're yummy. But how can you go wrong with a little Cho?
Fridge looks much better, and my belly sure is happy!
Thanks to Jenn as always for letting us gawk at each other's meals!
What is your favorite way to eat yogurt?
How about carrots?